Time for another Strip Reviews.  In Strip Reivews, I review multiple (usually 3) comic books/Graphic Novels.  Usually these don't have enough to talk about to warrant its own review, but I still wanted to talk about it.
New on here, and in all future reviews, you will see a CAWPILE Rating.  This rating was created by Book Roast.  She explains it perfectly in this video. This rating system creates an average rating between 7 categories (Characters, Atmosphere, Writing, Plot, Intrigue, Logic, and Enjoyment).  I will provide my CAWPILE Rating in the book summary section and then my Goodreads Rating in the graphic after the review.
Alright then, let's get started…
Sweet Valley High: Academic All-Star?
Author: Katy Rex, Devaki Neogi (Artist)
Publication Date: July 9, 2019
Pages: 120
Genre: Contemporary
Age: Young Adult
CAWPILE Rating: 4.43/10
Synopsis: When Jessica falls in love with her Shakespeare teacher, she begins to act like her studious twin sister Elizabeth to impress him. Now it's up to Elizabeth to make sure that all's well that end well – but with Jessica playing her role, will anyone be able to tell which twin is which?
The treasured series that has entertained generations and sold over 60 million books returns! Fans of the over 600 classic novels and spinoffs and the TV show will adore this charming graphic novel from rising star writer Katy Rex (Charmed Magic School, Jade Street Protection Services) and artist Devaki Neogi (The Skeptics, Curb Stomp). Sweet Valley High is also in development as a major motion picture.
My Thoughts
Oh wow! This was not what I was expecting.  I realize this was a corny series when I was a kid, but I do not remember the writing being this bad.  This was ok. I thought it was good that it talked about inappropriate relationships and the possible consequences of that relationship was briefly brought up. But overall the story was just meh. I found the art style ugly and these teenagers looked like they were in their 40s.
Justice League/Aquaman: Drowned Earth
Author: Scott Snyder, Dan Abnett (Artist)
Series: Justice League (#2.5)/ Aquaman (7.5)
Publication Date: April 16, 2019
Pages: 232
Genre: SciFi, Superhero
Age: Young Adult
CAWPILE Rating: 6.71/10
Synopsis: An alien army has returned… and they're not coming alone. With an aquatic army ready to destroy the Earth, the only thing standing between the planet and total annhilation is the King of Seven Seas, Aquaman, and the Justice League.
Unfortunately, the World's Greatest Superheroes don't stand a chance.
In the aftermath of the Justice League's battle with the Legion of Doom, an armada from the stars has come to plunder the Earth and its seas. With powers beyond comprehension, even Superman, Batman, Wonder Woman, Aquaman and the rest of the League's combined might can't stop these invaders. With nowhere left to turn, these heroes will have to turn to an ancient power to help them, one that even Arthur Curry fears unleashing.
Comics titan Scott Snyder masterminds his first major event of his Justice League run, in this epic graphic novel that will change the status quo for the League and Aquaman forever! Collects Justice League/Aquaman: Drowned Earth #1, Justice League #10-12, Aquaman #40-41, Titans #28 and Aquaman/Justice League: Drowned Earth #1.
My Thoughts
Out of this batch, I enjoyed this one the most.  The story was interesting. I haven't read a lot of superhero comics lately because they have left me disappointed and there never seems to be a clear starting point lately.  This one, however, did not leave me feeling completely lost. Which is extremely interesting considering it's in the middle of two different series.  There were moments that clearly link to previous issues, but they were fewer than I have experienced in the past.  The art style, besides 1 issue, was bright and had great detailing. The one issue, though, I found incredibly ugly (I would guess issue 2.5, but I could be wrong in that number) . Overall, it was a good story and was relatively self contained, although there is a clear sequel based on the final couple of pages ( the main arc was wrapped up).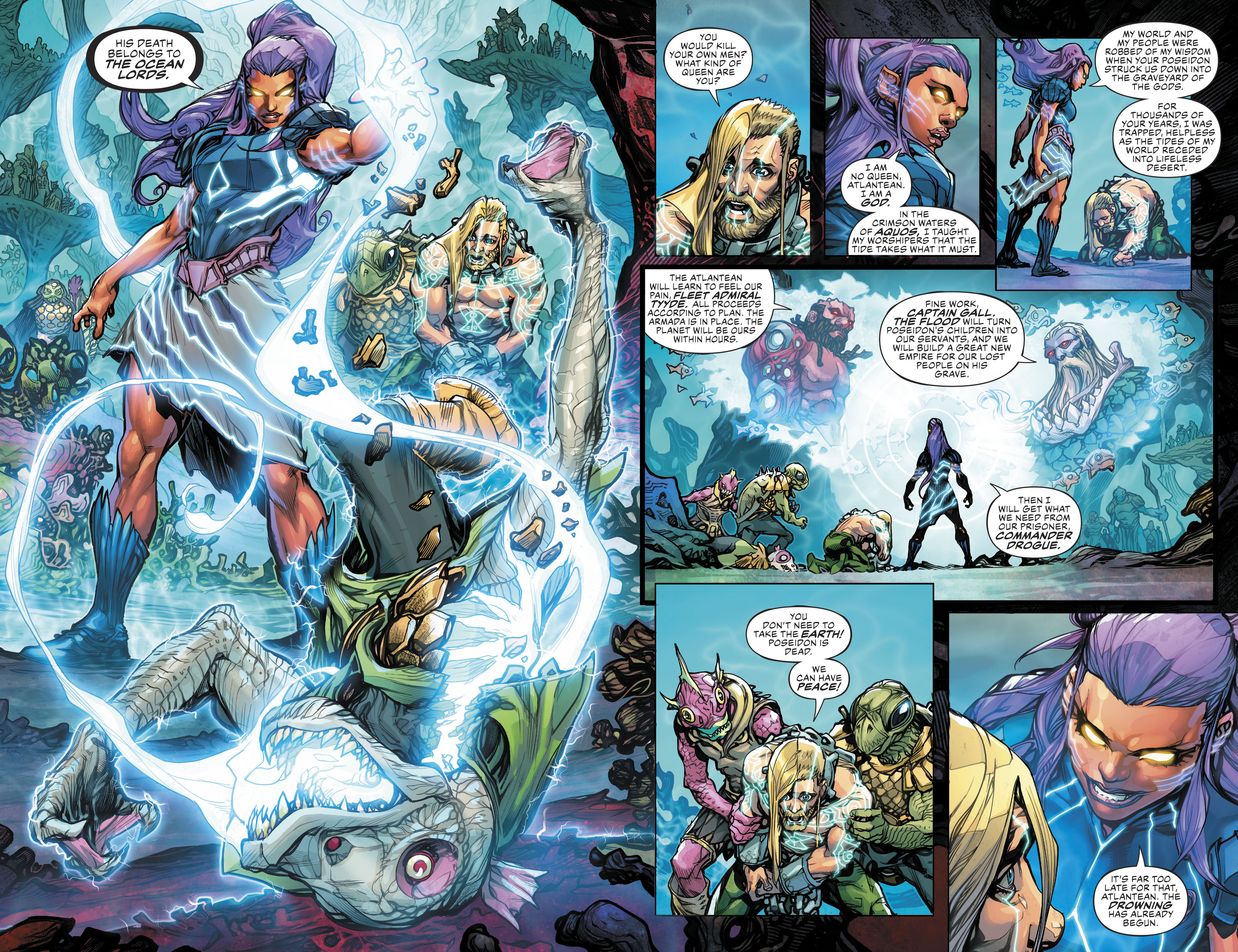 Van Helsing Sword of Heaven
Author: Chuck Dixon, Julius Abrera (Artist)
Publication Date: October 1, 2019
Pages: 148
Genre: Horror, Fantasy, Paranormal
Age: Adult
CAWPILE Rating: 5.14/10
Synopsis: Is an ancient weapon feared by every undead creature a myth or a reality? Liesel is willing to risk everything, her life included, to get her hands on the legendary blade that could bring an end to vampirism the world over. Her quest takes her to a remote corner of India and beyond reality on an adventure that could bring her the vengeance she seeks if it doesn't drive her mad first.

My Thoughts
The best part of this comic was the cover art and alternative cover art. I found Liesel Van Helsing boring as a character. She seemed to be invincible and there never felt like there was anything at stake. The characters were there to take up space. The villains, although different, felt like they were easily beat.  There's nothing much to say about this one at all.  It was fine, but I found myself scanning more than reading and enjoying the experience.  If it wasn't for the art style, this would have been a 2.