Y'all, I've fallen behind on my prescheduled posts and I was scrabbling around for a book tag to do this month. Then I found this one through Zezee with Books, who was tagged by Head in the Clouds, Heart in the Books. It looks like this tag was created by Trey Schnarr Books way back in the day – this was a very old tag, but still sounded like a fun, easy one to do in August.
So the rules:
Pick a few books that you know little to nothing about and guess what they are about based on the cover and title. Then, you compare it with the actual blub on Goodreads and see how you fare.
I've decided to use Bookstgram to help pick books for me – easiest way for me to find books I know nothing about lol. Here are the five books I've picked that I see often, but know nothing about.
Let me know if how you faired on any of these, if you've read them or plan to read them in the comments. Let's get our guessing on…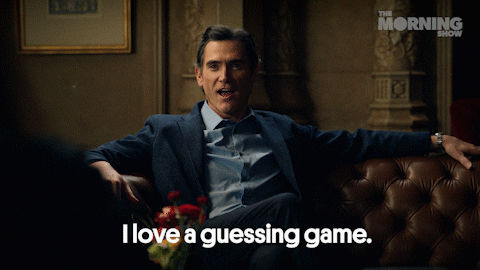 Tomorrow, and Tomorrow, and Tomorrow by Gabrielle Zevin
Me
Not only have I seen this one all over Bookstagram. but I also received the audiobook as part of the Libro.fm ALC Program – still know nothing about it. If I were to guess, I would say this is a romance that is set in the future. I think it is set in a virtual world where you can experience the world as it was, but something goes wrong and our protagonist is stuck in this virtual world and left to experience the same sequence of events until they solve… something – sci-fi, virtual groundhog day essentially lol
Goodreads Synoposis
In this exhilarating novel by the best-selling author of The Storied Life of A. J. Fikry two friends–often in love, but never lovers–come together as creative partners in the world of video game design, where success brings them fame, joy, tragedy, duplicity, and, ultimately, a kind of immortality.
On a bitter-cold day, in the December of his junior year at Harvard, Sam Masur exits a subway car and sees, amid the hordes of people waiting on the platform, Sadie Green. He calls her name. For a moment, she pretends she hasn't heard him, but then, she turns, and a game begins: a legendary collaboration that will launch them to stardom. These friends, intimates since childhood, borrow money, beg favors, and, before even graduating college, they have created their first blockbuster, Ichigo. Overnight, the world is theirs. Not even twenty-five years old, Sam and Sadie are brilliant, successful, and rich, but these qualities won't protect them from their own creative ambitions or the betrayals of their hearts.
Spanning thirty years, from Cambridge, Massachusetts, to Venice Beach, California, and lands in between and far beyond, Gabrielle Zevin's Tomorrow, and Tomorrow, and Tomorrow is a dazzling and intricately imagined novel that examines the multifarious nature of identity, disability, failure, the redemptive possibilities in play, and above all, our need to connect: to be loved and to love. Yes, it is a love story, but it is not one you have read before.
Was I close…
Well there's a video game! So point! And it's a romance so two points….. I think that's the end of the similarities though lol.
Me
Ok I know a little about this one… it's a thriller lol. I've read one book by Alice Feeney in the past and I'm semi-curious about this one. I think it takes place on a coast. I feel like there's an event – a wedding (because that seems to be my trend lately lol) – and everyone gets stuck on this island with no contact with the outside. Then people start getting murdered, and we'll have to find who to trust/who did it.
Goodreads Synopsis
The New York Times bestselling Queen of Twists returns…with a family reunion that leads to murder.
After years of avoiding each other, Daisy Darker's entire family is assembling for Nana's 80th birthday party in Nana's crumbling gothic house on a tiny tidal island. Finally back together one last time, when the tide comes in, they will be cut off from the rest of the world for eight hours.
The family arrives, each of them harboring secrets. Then at the stroke of midnight, as a storm rages, Nana is found dead. And an hour later, the next family member follows…
Trapped on an island where someone is killing them one by one, the Darkers must reckon with their present mystery as well as their past secrets, before the tide comes in and all is revealed.
With a wicked wink to Agatha Christie's And Then There Were None, Daisy Darker's unforgettable twists will leave readers reeling.
Was I close…
Ok not a wedding, but a family reunion (counting that as right lol). Gothic house on an island… check! Trapped on said island and someone is killing them off, one by one! Yes, I'd say I was as close to right as I could have gotten lol.
Skyhunter (Skyhunter #1) by Marie Lu
Me
This is a YA Dystopian set in the near-esq future. Like in Ender's Game, we are training elite teens to be our new soldiers. These soldiers were in a program to be augmented with mechanical angel wings and these wings are turning some of the soldiers mad. The program directors aren't concerned and are forcing this program forward. It is up to our main character and a small group of misfits to fight against the program directors, shut down the program and save their friends.
Goodreads Synopsis.
In a world broken by war, a team of young warriors is willing to sacrifice everything to save what they love.
The Karensa Federation has conquered a dozen countries, leaving Mara as one of the last free nations in the world. Refugees flee to its borders to escape a fate worse than death—transformation into mutant war beasts known as Ghosts, creatures the Federation then sends to attack Mara.
The legendary Strikers, Mara's elite fighting force, are trained to stop them. But as the number of Ghosts grows and Karensa closes in, defeat seems inevitable.
Still, one Striker refuses to give up hope.
Robbed of her voice and home, Talin Kanami knows firsthand the brutality of the Federation. Their cruelty forced her and her mother to seek asylum in a country that considers their people repugnant. She finds comfort only with a handful of fellow Strikers who have pledged their lives to one another and who are determined to push Karensa back at all costs.
When a mysterious prisoner is brought from the front, Talin senses there's more to him than meets the eye. Is he a spy from the Federation? Or could he be the weapon that will save them all?
Was I close…
Well there are mutant warn beasts that were created by the Federation to attack Mara. Oh and we're training elite fighters, which our main character is a part of – and keeps up hope.
The Cheat Sheet by Sarah Adams
Me
This romance takes place in college/university and we follow the star Quarterback and a smart student who does ballet for fun, but secretly wants to do it full time despite her family not approving. The Quarterback is failing a class, but our ballerina excels at it, and next thing they know the coach and instructor force them into tutoring sessions. These tutoring sessions start out as torture, but as they get to know each other they start to see the good qualities in each other and start to question their feelings.
Goodreads Synopsis
Is it ever too late to leave the friend-zone?
Hi, my name is Bree Camden, and I'm hopelessly in love with my best friend and star quarterback Nathan Donelson (so is half of America, judging by the tabloids and how much the guy dates). The first step is admitting, right? Except, I can never admit it to him because he clearly doesn't see me that way, and the last thing I want is for things to get weird between us.
Nothing but good old-fashioned, no-touching-the-sexiest-man-alive, platonic friendship for us! Everything is exactly how I like it! Yes. Good. (I'm not crying, I'm just peeling an onion.)
Our friendship is going swimmingly until I accidentally spill my beans to a reporter over too much tequila, and now the world seems to think me and Nathan belong together. Oh, and did I mention we have to date publicly for three weeks until after the Super Bowl because we signed a contract with…oops, forgot I can't tell anyone about that!
Bottom line is, now my best friend is smudging all the lines and acting very un-platonic, and I'm just trying to keep my body from bursting into flames every time he touches me.
How am I going to make it through three weeks of fake dating Nathan without anything changing between us? Especially when it almost-sort-a-kinda seems like he's fighting for a completely different outcome?
Send help.
XO Bree
Was I close….
Oops, turns out this is a friends-to-lovers romance with a playboy image?! Famous fake boyfriend in the public eye. I haven't read many sports romance – really the closest was Take a Hint, Dani Brown and that wasn't really a sports romance. Now that I really know what this is about, I kind of want to move it up the tbr lol.
The Recovery Agent (Gabriela Rose #1) by Janet Evanovich
Me
Ok a lot of this is going to be based off of her Stephanie Plum series that I've read lol. So… this one is about Gabriela who is amazing at her job. She's sexy, sarcastic, takes shit from no one and has curves. There are two sexy love interests… one will be a coworker that is a mentor/partner, the other is a rival that they're always fighting over recovery jobs. We're off to a tropical country in search of an ancient article, but each time we get close to a new clue we're beat by the second love interest OR there's a puzzle we must beat… is it just me or did I make this Stephanie Plum meets Tomb Raider 😂
Goodreads Synopsis
Lost something? Gabriela Rose knows how to get it back. As a recovery agent, she's hired by individuals and companies seeking lost treasures, stolen heirlooms, or missing assets of any kind. She's reliable, cool under pressure, and well trained in weapons of all types. But Gabriela's latest job isn't for some bamboozled billionaire, it's for her own family, whose home is going to be wiped off the map if they can't come up with a lot of money fast.
Inspired by an old family legend, Gabriela sets off for the jungles of Peru in pursuit of the Ring of Solomon and the lost treasure of Cortez. But this particular job comes with a huge problem attached to it—Gabriela's ex-husband, Rafer. It's Rafer who has the map that possibly points the way to the treasure, and he's not about to let Gabriela find it without him.
Rafer is as relaxed as Gabriela is driven, and he has a lifetime's experience getting under his ex-wife's skin. But when they aren't bickering about old times the two make a formidable team, and it's going to take a team to defeat the vicious drug lord who has also been searching for the fabled ring. A drug lord who doesn't mind leaving a large body count behind him to get it.
The Recovery Agent marks the start of an irresistible new series that will have you clamoring for more and cheering for the unstoppable Gabriela Rose on every page.
Was I close…
Ok… but doesn't that sound like Tomb Raider?!?!!? Like I'm totally down for it! And we have the ex-husband that I feel will be one of the love interests. This wasn't originally on my radar because I got so far behind on Stephanie Plum that I never finished and I'm worried this will end up the same (too long a series for me to keep up lol)