I wanted to find a more recent Valentine's Day book tag, because I have a feeling I did the normal one in the past. After some searching, I came across Valentine's Day Sweetheart Book Tag over on Between the Shelves blog. This book tag was created by Pampered Pages and I found it over on Twirling Book Princess.
What is your favorite Valentine's Day-themed candy?
Cinnamon Hearts! Is that weird?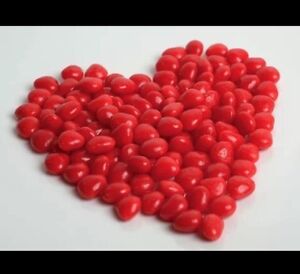 Do you enjoy reading romance?
Oh I love reading all the romance books – fantasy romance and romcoms are the ones I gravitate towards though.
Do you tend to read romance books throughout the Valentine's Day season?
Yes! But I also read romances all year – I just tend to prioritize them more in February.
Your fictional sweetheart shows up at your door with a Valentine's Day gift. What is it?
Books! Always books! and maybe some sour keys lol.
How many romance books do you have that are written by the same author?
Oh no! I really don't want to count that! Ummm let's see I have a lot of Colleen Hoover, Sarah J Maas, Jennifer L Armentrout, a few by Alyssa Cole now, Tailia Hibbert, Helen Hoang, and probably a lot of those I've complete missed.
What is a romance book that made you cry?
What romance doesn't make me cry lately?!? I think the most recent one was Ugly Love by Colleen Hoover – pretty sure I ugly cried because of that one.
If you could choose any place (fictional or real) to escape to for a Valentine's Day date with your sweetheart, where would you like to go?
Just one?!?! Hmm I'd love to visit Greece, Australia, or return to Scotland for Valentine's Day.
DISTANCE MAKES THE HEART GROW FONDER: What anticipated book release do you know in your heart you will absolutely love?
It's probably safe to say I'll love House of Sky and Breath by Sarah J Maas and War of Two Queens by Jennifer L Armentrout.
Do you have any favorite love-themed quotes from any of the books you have read?
I just suck at quotes! Share yours in the comments – I can only think of these two:
ALL'S FAIR IN LOVE AND WAR: Do you have more books with red or pink spines?
Likely more red, but there seem to be more and more pink spines.
If you're interested in completing this tag, then be sure to tag me so I can see your answers! Do you have any romance recommendations?
~Happy Valentine's Day