Black History Month is a month where we celebrate the many achievements and contribtions of the Black Community who have done a lot throughout history to make the world a more culturally diverse and compassionate world.
Although I'm trying to read more diversely throughout the year, I did make sure to have some books written by Black authors this month. I was trying to think of another way to celebrate Black History Month and came across this tag on Bookish Realm's BookTube Channel and it was originally created by Books by Leynes.
1. What is a book everyone should be reading during Black History Month? (give one fiction and one nonfiction title)
Fiction
This hard hitting novel done in verse was one that surprised me last year. I ended up giving it 5 starts – it was amazing and moving and I hardly hear people talking about it.
Goodreads Synopsis:
From award-winning, bestselling author Ibi Zoboi and prison reform activist Yusef Salaam of the Exonerated Five comes a powerful YA novel in verse about a boy who is wrongfully incarcerated. Perfect for fans of Jason Reynolds, Walter Dean Myers, and Elizabeth Acevedo.

The story that I thought

was my life

didn't start on the day

I was born

Amal Shahid has always been an artist and a poet. But even in a diverse art school, he's seen as disruptive and unmotivated by a biased system. Then one fateful night, an altercation in a gentrifying neighborhood escalates into tragedy. "Boys just being boys" turns out to be true only when those boys are white.

The story that I think

will be my life

starts today

Suddenly, at just sixteen years old, Amal's bright future is upended: he is convicted of a crime he didn't commit and sent to prison. Despair and rage almost sink him until he turns to the refuge of his words, his art. This never should have been his story. But can he change it?

With spellbinding lyricism, award-winning author Ibi Zoboi and prison reform activist Yusef Salaam tell a moving and deeply profound story about how one boy is able to maintain his humanity and fight for the truth, in a system designed to strip him of both. 
NonFiction
I'M STILL HERE: BLACK DIGNITY IN A WORLD MADE FOR WHITENESS BY AUSTIN CHANNING BROWN
I don't hear many people talk about this book either. I don't read many non-fiction, which you may have seen in my Friday Favourites: Non-Fiction post, so I don't have much to compare but I really enjoyed this one. Brown had a lot of interesting stories and perspectives that I haven't read or heard much about (although I'm sure it's a common story for those in the Black Community).
Goodreads Synopsis:
From a powerful new voice on racial justice, an eye-opening account of growing up Black, Christian, and female in middle-class white America.

Austin Channing Brown's first encounter with a racialized America came at age 7, when she discovered her parents named her Austin to deceive future employers into thinking she was a white man. Growing up in majority-white schools, organizations, and churches, Austin writes, "I had to learn what it means to love blackness," a journey that led to a lifetime spent navigating America's racial divide as a writer, speaker and expert who helps organizations practice genuine inclusion.

In a time when nearly all institutions (schools, churches, universities, businesses) claim to value "diversity" in their mission statements, I'm Still Here is a powerful account of how and why our actions so often fall short of our words. Austin writes in breathtaking detail about her journey to self-worth and the pitfalls that kill our attempts at racial justice, in stories that bear witness to the complexity of America's social fabric–from Black Cleveland neighborhoods to private schools in the middle-class suburbs, from prison walls to the boardrooms at majority-white organizations.

For readers who have engaged with America's legacy on race through the writing of Ta-Nehisi Coates and Michael Eric Dyson, I'm Still Here is an illuminating look at how white, middle-class, Evangelicalism has participated in an era of rising racial hostility, inviting the reader to confront apathy, recognize God's ongoing work in the world, and discover how blackness–if we let it–can save us all. 
2. Which Black booktuber would you recommend watching and why?
So I'm want to share a couple of Black Booktubers.
Starlah is a queer, multirace Booktuber who I found a year ago and I've been watching everything she's created on her channel. I love her fantasy and scifi reccommendations, but you can find other genres likes thriller/horror, hard-hitting contemporary, and manga/graphic novels.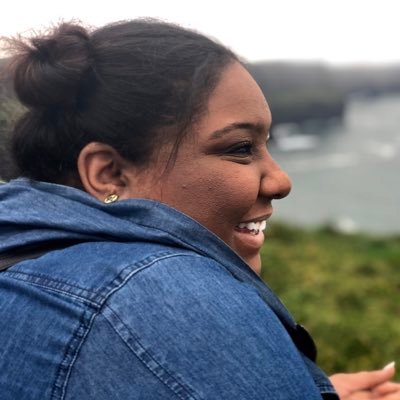 I've only recently found Shae, but I love her content. She reads a lot of fantasy and chick-lit.
Nori is so adorable! I find her bubbly and fun to watch. She reads a lot of Adult and YA – I personally love seeing all her different Mangas that I haven't heard of before. I absolutely love her TBR Cookie Jar videos – such a fun idea!
3. What is your favorite book written by a Black author from an African country?
I'm actually very frustrated with myself with how many books I have on my TBR that I think would make this list and I think I need to really start reading Black authors outside of the USA. That being said, this is my favourite.
Binti by Nnedi Okorafor
Goodreads Synopsis:
Her name is Binti, and she is the first of the Himba people ever to be offered a place at Oomza University, the finest institution of higher learning in the galaxy. But to accept the offer will mean giving up her place in her family to travel between the stars among strangers who do not share her ways or respect her customs.
Knowledge comes at a cost, one that Binti is willing to pay, but her journey will not be easy. The world she seeks to enter has long warred with the Meduse, an alien race that has become the stuff of nightmares. Oomza University has wronged the Meduse, and Binti's stellar travel will bring her within their deadly reach.
If Binti hopes to survive the legacy of a war not of her making, she will need both the gifts of her people and the wisdom enshrined within the University, itself – but first she has to make it there, alive.
4. What is your favorite Black classic?
Kindred by Octavia E. Butler
I don't read a lot of classics… you could probably count the number on one hand. That being said, I read the graphic novelization of Kindred and loved it. I want to pick up the original novel and more by Octavia E Butler.
Goodreads Synsopsis:
5. Which movie / book-to-movie-adaptation / documentary would you recommend watching during Black History Month?
This horror movie was AMAZING! I watched it when it first came out and it still comes to mind every once and a while, which is rare for movies for me.
IMdB Synopsis: A young African-American visits his white girlfriend's parents for the weekend, where his simmering uneasiness about their reception of him eventually reaches a boiling point.
6. What's on your TBR for Black History Month?
Ones I will most definitely get to this month are:
I'm so excited for this one! I should be started it in the next couple of days.
Goodreads Synopsis:
Sixteen-year-old Deka lives in fear and anticipation of the blood ceremony that will determine whether she will become a member of her village. Already different from everyone else because of her unnatural intuition, Deka prays for red blood so she can finally feel like she belongs.

But on the day of the ceremony, her blood runs gold, the color of impurity–and Deka knows she will face a consequence worse than death.

Then a mysterious woman comes to her with a choice: stay in the village and submit to her fate, or leave to fight for the emperor in an army of girls just like her. They are called alaki–near-immortals with rare gifts. And they are the only ones who can stop the empire's greatest threat.

Knowing the dangers that lie ahead yet yearning for acceptance, Deka decides to leave the only life she's ever known. But as she journeys to the capital to train for the biggest battle of her life, she will discover that the great walled city holds many surprises. Nothing and no one are quite what they seem to be–not even Deka herself. 
This is a group read and I likely wont get to it until the middle of February, but it sounds so good! I love magical schools and retellings.
Goodreads Synopsis:
After her mother dies in an accident, sixteen-year-old Bree Matthews wants nothing to do with her family memories or childhood home. A residential program for bright high schoolers at UNC–Chapel Hill seems like the perfect escape—until Bree witnesses a magical attack her very first night on campus.
A flying demon feeding on human energies.
A secret society of so called "Legendborn" students that hunt the creatures down.
And a mysterious teenage mage who calls himself a "Merlin" and who attempts—and fails—to wipe Bree's memory of everything she saw.
The mage's failure unlocks Bree's own unique magic and a buried memory with a hidden connection: the night her mother died, another Merlin was at the hospital. Now that Bree knows there's more to her mother's death than what's on the police report, she'll do whatever it takes to find out the truth, even if that means infiltrating the Legendborn as one of their initiates.
She recruits Nick, a self-exiled Legendborn with his own grudge against the group, and their reluctant partnership pulls them deeper into the society's secrets—and closer to each other. But when the Legendborn reveal themselves as the descendants of King Arthur's knights and explain that a magical war is coming, Bree has to decide how far she'll go for the truth and whether she should use her magic to take the society down—or join the fight.
7. Which new releases by Black writers are you looking forward to the most this year?
Tami Charles is the New York Times Bestselling author of All Because You Matter, and numerous books for children and young adults. Her middle grade debut, Like Vanessa, earned Top 10 spots on the Indies Introduce and Spring Kids' Next lists, three starred reviews, and a Junior Library Guild selection. Her forthcoming titles include YA novel-in-verse, Muted, and lyrical picture book, My Day with the Panye.When Tami isn't writing, she can be found presenting at schools both stateside and abroad. 
I'm wanted to pick up Muted (Feb 2) – sooner than later (maybe if I have time in Feb or March)
Suyi Davies Okungbowa is the author of Son of the Storm (Orbit, May 2021), first in The Nameless Republic epic fantasy trilogy, and the godpunk novel, David Mogo, Godhunter (Abaddon, 2019). His shorter works have appeared internationally in periodicals like Tor.com, Lightspeed, Nightmare, Strange Horizons, Fireside, and anthologies like Year's Best Science Fiction and Fantasy, A World of Horror and People of Colour Destroy Science Fiction. He lives between Lagos, Nigeria and Tucson, Arizona where he teaches writing at the University of Arizona and completes his MFA. He tweets at @IAmSuyiDavies and is @suyidavies on Instagram. Learn more at suyidavies.com. 
I have Son of the Storm on my radar and will be preordering this one if it doesn't appear in one of my book subscription boxes.
According to astrology, I'm a Gemini Sun with a Capricorn Moon, which explains lots of things, but nearly enough. As a lover of obscure trivia, fun facts, and miscellaneous knowledge, I find researching a new book just as fun as writing it. My psychology degree prepared me both for a writing career and work as a UX Researcher. I am forever disappointed that NASA doesn't think psychology is a hard science.
I'm so excited for The Conductors (March 2nd)!
I'm so glad I was able to find this tag! It really showed me that I need to read way more diversely than I currently am (not fully surprising, but I did not realize just how many books I haven't read by Black authors). If you haven't already done this tag, then I tag you to do it!
What book are you looking forward to this year that was written by a Black author? Comment below!