I haven't done many of the end of the year style posts, but there are a couple I want to make sure gets out. This is one of them. I've picked 12 books that I already own, and have owned for years! I want to read these 12 books before the end of the year. IF I don't, then I will end up unhauling them (attempting to get better at this).
After each quarter, I will do a check-up to see if I've read these – also to remind me what's on the list so I can make sure to prioritize them.
So let's get started.
#1: Flawed by Cecelia Ahern
This is one of my oldest books from a subscription box. I just honestly keep forgetting about it though!
Goodreads Rating: 4.12
Number of Ratings: 25,326
Awards: Evergreen Teen Book Award (2019)
I'm still interested in this one, since I'm always looking for more sci-fis to enjoy. I haven't read anything by Ahern, which (besides forgetting about it) is a reason I've put it on this list. Another reason… sounds like another book where the character is outstandishly perfect, but goes against society anyways. We shall see which way this falls.
#2: Glow by Ned
This one I got from a friend as a gift last year. I had never heard of it, but reading the inside flap had me curious.
Goodreads Rating: 3.33
Number of Ratings: 1,675
This is a little lesser known that the #1. It is a British mystery/thriller and involves a new type of drug. It just sounds like a weird little book that no one's heard about and, since I have it, I want to prioritize reading it – hopefully over the next couple of months.
#3: The Luxe by Anna Godbersen
This one I bought purely because of the gorgeous dress on the cover. I remember buying this entire series all from my Public Library's book sale so they cost $4 in total, but they're big and taking up space on my shelves.
Goodreads Rating: 3.63
Number of Ratings: 69,913
Now, I've asked some of my friends and they seem to think I'll like it for the historical fiction. Briefly skimming the synopsis, it kind of sounds like historical (1899) Gossip girl – elitist, rich society girls in New York. So I figured it was worth a try before unhauling.
#4: Changeling by Philippa Gregory
I bought this because I love the Tudor novels Gregory wrote and thought I'd give her fantasy a try… oops. Turns out this is just a normal historical fiction series.
Goodreads Rating: 3.25
Number of Ratings: 9,206
Knowing now that it's only historical fiction I think I wont be as disappointed as others were who (based on the cover and dust jacket synopsis) thought it was a fantasy. I love historical fiction and I haven't read much from Italy, so I'm still interested – for now. Plus it's another one where I own the entire series.
#5: Memoirs of an Imaginary Friend
I think I originally had interest in this because it was on the Goodreads Choice Awards when it came out. Now, I don't have the faintest idea what it's about.
Goodreads Rating: 4.12
Number of Ratings: 29,167
Awards: Goodreads Choice Award Nominee for Fiction (2012), Dolly Gray Children's Literature Award (2014)
This, I believe, is from the perspective of an imaginary friend named Budo. Budo's child, Max, is, according to the synopsis, on the autistic spectrum – so I'm expecting a heart wrenching story.
#6: Catching Stars by Cayla Keenan
This was one of the first books I found at the Dollar Tree. I picked it up because it was only $1.25, had a interesting looking cover design, and it sounded like an interesting high fantasy.
Goodreads Rating: 3.67
Number of Ratings: 1,018
I haven't unhauled it in the past because some of my friends seemed to enjoy it and OwlCrate rated it 5 stars – so that has me interested. What does concern me is that some have said it's part of a trilogy, but it's not listed as one on Goodreads. The author's next book is set to release in 2023, but it doesn't look like its related to this book.
#7: Consent by Nancy Ohlin
This one I've had for a number of years and I can't remember exactly where I got it from.
Goodreads Rating: 3.17
Number of Ratings: 930
This is one of my lesser known books on this list, which makes it harder to decide if I should pass on it or not. I know I picked this up because I was curious which way it went – taboo relationship (with teacher) or sexual assault. Based on the synopsis, I'm going with taboo relationship. I'm curious enough to pick this up still – but a little more hesitant than with the others.
#8: Cure for the Common Universe by Christian McKay Heidicker
I remember finding out about this book from Hailey from Hailey in Bookland. I can't remember if she's read it, or if it was one on her selves forever too and was used for the cover in a bunch of tags.
Goodreads Rating: 3.42
Number of Ratings: 1,053
This follows a book in video game rehab – that alone was the hook for me I think. He then meets a girl in rehab and has to deal with reaching his goal outside of a virtual environment. Honestly, it just sounds cute and geeky – my kind of book.
#9: The Dreamers by Karen Thompson Walker
This was another book I found out about through Booktube. It sounded really interesting and I think I only found out about it early last year.
Goodreads Rating: 3.66
Number of Ratings: 29,924
This is another scifi book that I picked up once I found out about it with the intensions to read more scifi… it hasn't worked out for me yet. I'm putting this one on the list, not because I've lost interest, but in hopes of starting that goal (reading more scifi this year).
#10: My Sister Rosa by Justine Larbalestier
I think I found this on a horror list.
Goodreads Rating: 3.80
Number of Ratings: 6,344
Awards: Edgar Award Nominee for Best Young Adult (2017), Rhode Island Teen Book Award Nominee (2019), Aurealis Award Nominee for Best Horror Novel (2016), Adelaide Festival Award for Young Adult Fiction (2018), Green Mountain Book Award Nominee (2017)
I was interested in this because a horror story centered around a 10-year-old girl just sounded super spooky!
#11: The Royal Secret by Lucinda Riley
It was a royal romance…???
Goodreads Rating: 4.00
Number of Ratings: 88,917
Honestly, I think I picked it up because it was a smutty romance that people seemed to have issues with – and I was curious. Turns out not a royal romance, but the romance centers around the Royal Family (strip club tycoons?). It can really only go two ways, either I love it and buy the rest of the trilogy, or I absolutely hate it and donate it – I'm honestly hoping for the love it!
#12: The Pretty Little Liars Series by Sara Shepard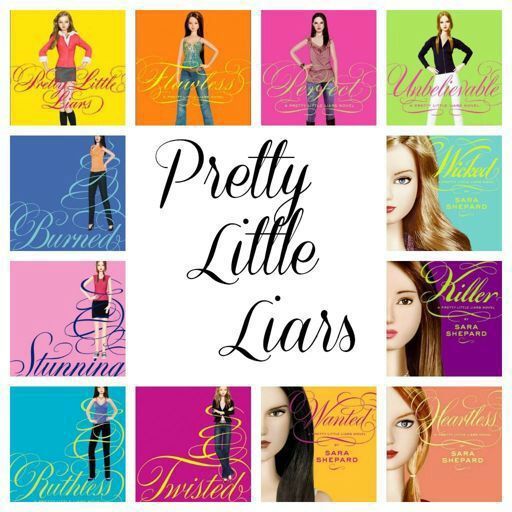 So this is a big one…
Based off of Pretty Little Liars (#1)
Goodreads Rating: 3.87
Number of Ratings: 186,067
See I own all but the novellas in this series and I've only read the first book or 2 – and that was years ago! I stopped reading it because I was watching the series at the same time and the differences were making everything confusing. So I decided to hold off and read them after the series ended – but I haven't yet. I would like to see if the series appeals to me and if not then I can donate them all.
So that's it! What do you think? Any of those I should move up the TBR? Love or hate any of them? Let me know in the comments.