I'm back with another set of mini-reviews, but this time I've decided to call this series Strip Reviews – a play on comic strips… clever?  Either way, here are my thoughts on three graphic novels.
Heartstopper Vol 2
Author: Alice Oseman
Publication Date: July 11, 2019
Pages: 296
Genre: Contemporary, LGBTQIA+
Triggers: Violence, Homophobia
Rating: 5/5
Synopsis: Boy meets boy. Boys become friends. Boys fall in love. An LGBTQ+ graphic novel about life, love, and everything that happens in between: this is the second volume of HEARTSTOPPER, for fans of The Art of Being Normal, Holly Bourne and Love, Simon.
Nick and Charlie are best friends. Nick knows Charlie's gay, and Charlie is sure that Nick isn't.
But love works in surprising ways, and Nick is discovering all kinds of things about his friends, his family … and himself.
Heartstopper is about friendship, loyalty and mental illness. It encompasses all the small stories of Nick and Charlie's lives that together make up something larger, which speaks to all of us.
This is the second volume of Heartstopper, with more to come.
My Thoughts
OMG THIS SERIES
 I just can't!  I need more and I need more now!
This volume continues after Vol 1 and, honestly, I am going to try my best not to spoil things – which will be rather difficult!  We continue to follow Nick and Charlie and their undefined relationship.  We don't know exactly where this story is going after Vol 1 ended (or maybe you do, I haven't read Solitaire).  This story is so heart-wrenching and sweet.  It feels like a celebration of love and family and acceptance.  We learn that some are more welcoming than others.  Like the last volume, we get a large representation of LGBTQIA+, but the main focus is on Nick and Charlie.  At the end of this volume, we get a short story about one of the side characters, Tara, and I could handle more about her in the future!
In case you can't tell, I absolutely, highly recommend Heartstoppers – but be warned you will be begging for more and impatiently waiting for Volume 3 to come it!
---
Mooncakes by Suzanne Walker and Wendy Xu
Author: Suzanne Walker and Wendy Xu
Publication Date: October 15, 2019
Pages: 256
Genre: Contemporary, LGBTQIA+
Rating: 3.5/5
Synopsis: A story of love and demons, family and witchcraft.
Nova Huang knows more about magic than your average teen witch. She works at her grandmothers' bookshop, where she helps them loan out spell books and investigate any supernatural occurrences in their New England town.
One fateful night, she follows reports of a white wolf into the woods, and she comes across the unexpected: her childhood crush, Tam Lang, battling a horse demon in the woods. As a werewolf, Tam has been wandering from place to place for years, unable to call any town home.
Pursued by dark forces eager to claim the magic of wolves and out of options, Tam turns to Nova for help. Their latent feelings are rekindled against the backdrop of witchcraft, untested magic, occult rituals, and family ties both new and old in this enchanting tale of self-discovery.
My Thoughts
I received an eARC of Mooncakes from Netgalley in exchange for an honest review.
I thought this was a cute book with a cute story. I loved that there was disability rep (deafness) showing just how capable they can be. I also loved the LGBTQ+ rep. The fact that the characters were so open to everyone's identification was truly lovely and nice to see.
I did, however, wish there was more exploration/explanation of what Spirits are and what exactly they can do (their rules in magic).
All the characters were sweet and loving and willing to learn about each other and help. The villains were superficial though. There was no real reasoning for why this person was the villain – or at least not enough reasoning for my liking. I would have liked to have understood more besides the reasoning of "more power".
The art style was cute, but too old school for my taste.  It also didn't help that only about half of the eARC was in colour and the rest was black and white/shading.
Overall, I really enjoyed the book but was hoping for a little more explanation of this world and its magic. If this story continues, I will definitely be reading it.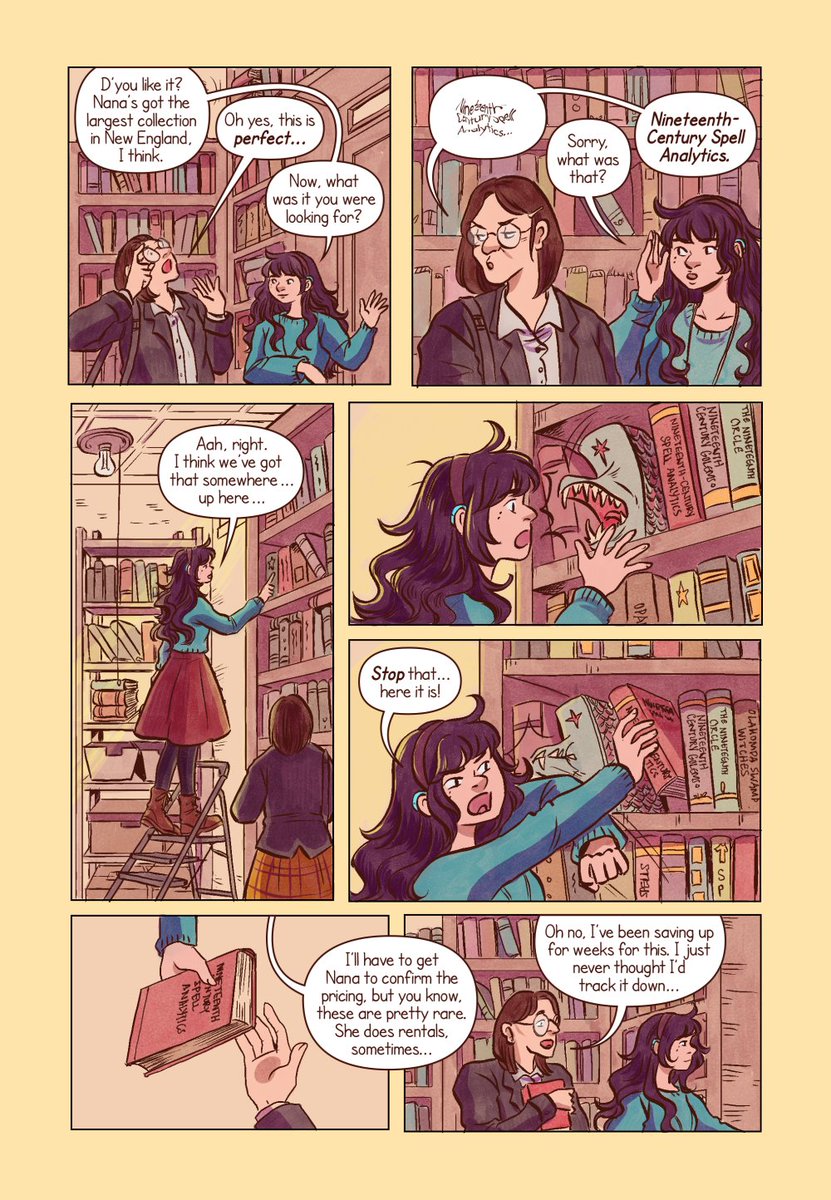 ---
Pumpkinheads by Rainbow Rowel
Author: Rainbow Rowel
Publication Date: August 27, 2019
Pages: 209
Genre: Contemporary, Romance, LGBTQIA+
Rating: 5/5
Synopsis: Deja and Josiah are seasonal best friends.
Every autumn, all through high school, they've worked together at the best pumpkin patch in the whole wide world. (Not many people know that the best pumpkin patch in the whole wide world is in Omaha, Nebraska, but it definitely is.) They say good-bye every Halloween, and they're reunited every September 1.
But this Halloween is different—Josiah and Deja are finally seniors, and this is their last season at the pumpkin patch. Their last shift together. Their last good-bye.
Josiah's ready to spend the whole night feeling melancholy about it. Deja isn't ready to let him. She's got a plan: What if—instead of moping and the usual slinging lima beans down at the Succotash Hut—they went out with a bang? They could see all the sights! Taste all the snacks! And Josiah could finally talk to that cute girl he's been mooning over for three years . . .
What if their last shift was an adventure?
My Thoughts
This is the cutest!  I devoured this in such a short amount of time.  The only negative thing I could possibly say about this graphic novel is that it's too short!  This, as far as I know, is a standalone graphic novel about the final night working at a pumpkin patch.  We follow Josiah and Deja in their adventure to get Josiah to FINALLY talk to the girl he's been crushing on since starting work there (five years if I remember right).  I loved that we got to travel with them to a bunch of different places in the patch.  You could feel the love of the place through the pages!  The love and friendship between Josiah and Deja are so sweet and amazing! I would love to have a friendship like that.  As we travel through the pumpkin patch, we slowly learn how different Josiah and Deja are – Josiah is reserve, while Deja is outgoing and, as we learn, has many ex-boyfriends/girlfriends and love interests.  I love how plain this is displayed – no shaming, a big deal isn't made about the fact that Deja has interest in boys and girls (a label is never put on her sexuality).
The art style is amazing!  It's cute and bubbly and full of fall love.  The colours picked make you feel cozy, with a touch of a fall breeze – like a cozy sweater.  Is that silly, yes – but read it and tell me you don't get that feeling!  There is so much expression on each panel that you can really feel their emotions and fall in love with them in such a short period.
I don't know how to express my love for this graphic novel without spoiling it, so this one is going to be super short and sweet.  If you love a story about friendship and experiencing it in one night then I highly suggest you pick this one up!  If you love anything by Rainbow Rowell, then I highly suggest you pick this one up.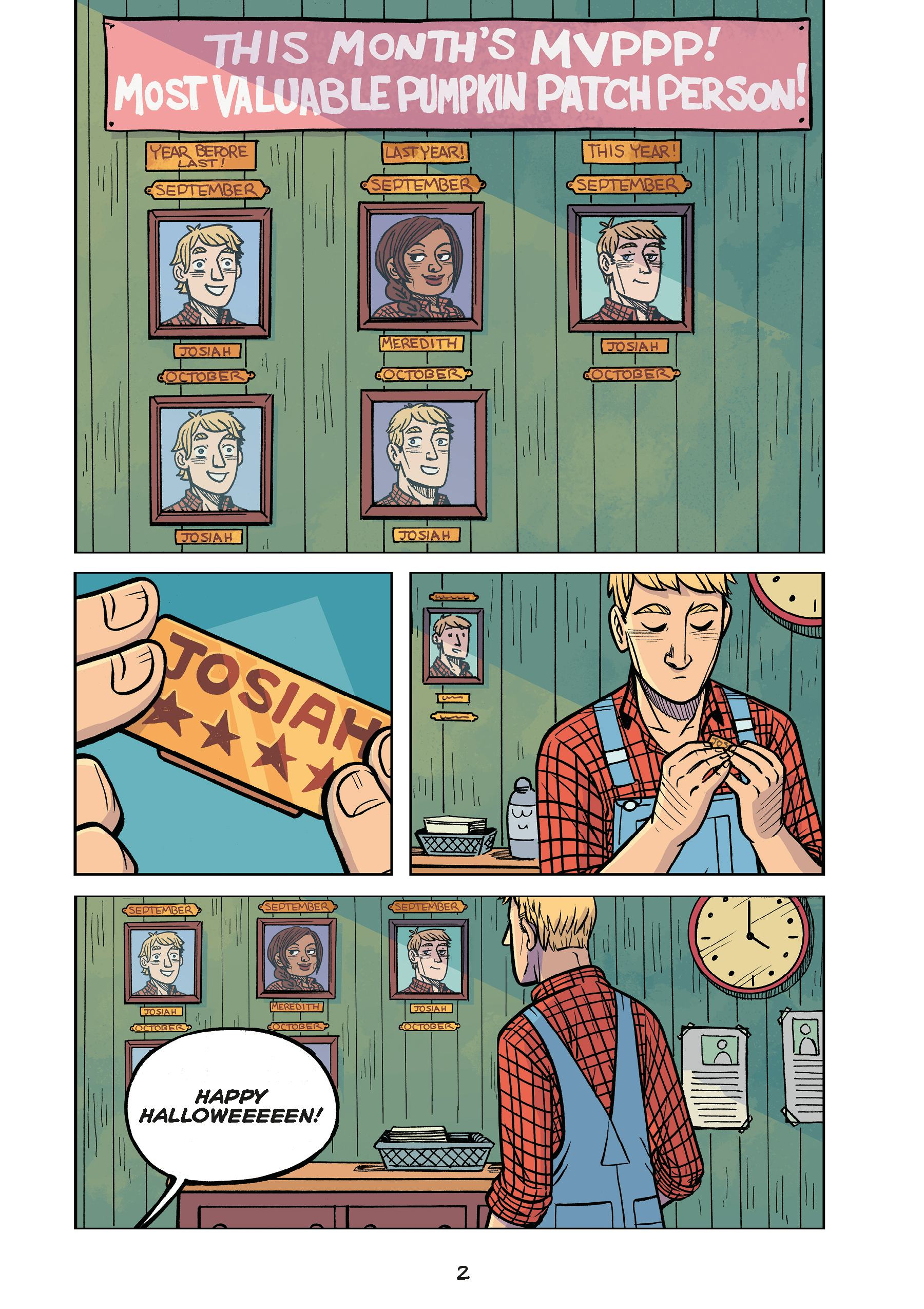 ---
That's it.  Another three graphic novels enjoyed and reviewed.  Have you read any of these? Do you plan to?  Let me know in the comments.
~Heather