I'm back with another mini review for Graphic Novels.  This round for me wasn't as good as previous ones, but I wanted to share my thoughts nonetheless.
Injection Vol 1
Author:Warren Ellis
Publication Date: October 20, 2015
Pages: 120
Genre: Science Fiction, Horror, Adult
Triggers: Violence, Gore, Nudity
Rating: 2/5
Synopsis: A few years ago, a public/private partnership between the British Government and a multinational company saw five clever people placed in university-owned offices and allowed to do whatever they liked. It was called the Cultural Cross-Contamination Unit, and the idea was that it would hothouse new thinking and new patents. Five actual geniuses, all probably crazy, very eccentric, put in one place and given carte blanche to think about ways to approach and change the future. What Could Possibly Go Wrong?
They did A Crazy Thing, which was referred to as The Injection. A mysterious Thing that they did in order to make the 21st Century better and stranger. It got out. It got loose into the fabric of the 21st Century, whatever it was, and now things are getting weird and ugly, faster and faster.
So a few years have passed. They've all gone their separate ways, into separate "jobs" that allow them to follow and sometimes deal with the repercussions of The Injection. We are in the period where the toxic load of The Injection is at such a level that events that are essentially paranormal in nature are coming faster and faster, headed towards a point where humanity won't easily be able to live on the planet any more. Not a Singularity of glory, but an irretrievable constant blare of horror coming too thick and fast for anything to deal with.
From the creators of Moon Knight: From the Dead: the story of five mad geniuses trying to save us all from themselves.
Collecting: Injection 1-5
Review
Okay, so this graphic novel made no sense to me!  I have no clue what the "injection" is… like at the end I get the general idea of what/who/how it was done, but overall half the stuff didn't feel like it connected.  There are basically three four storylines threaded through this five-issue volume.  This had a mesh of science fiction and horror with a touch of folklore retelling.  Technically the stories connected, but really they only feel like there is a connection because of the characters and their brief overlap.  This was super graphic at times depicting extreme violence.  There were moments where I was really impressed by the art style, but then other times where I found it unappealing (at not necessarily when gore was illustrated).  Overall, I would skip this one and I will not be continuing with the series.
Goodreads | Amazon | Indigo | Book Depository
Crowded Vol 1
Author:Christopher Sebela
Publication Date: May 26, 2019
Pages: 168
Genre: Science Fiction, Adult
Rep: LGBTQ+ (f/f relationship)
Rating: 2/5
Synopsis: Ten minutes in the future, the world runs on an economy of job shares and apps, while crowdfunding has evolved into Reapr: a platform for assassination that's trickled down from politicians, celebrities and CEOs to everyday life and all its petty resentments. A world where anyone with enough backers and the money they contribute can kill anyone else.
Like Charlie Ellison, who up until now has lead a quiet, normal life, until she wakes up to find herself the target of a Reapr campaign with a million dollars on her head. Hunted by all of Los Angeles, Charlie hires Vita, the lowest rated bodyguard on the Dfend app. As the campaign picks up speed and Vita takes out incompetent civilians and aspirational assassins on their tail, she and Charlie will have to figure out who wants Charlie dead and why before the campaign's 30 days or their lives are over.
Collecting the first arc by Eisner-nominated writer Christopher Sebela (SHANGHAI RED, WE(L)COME BACK, HEARTTHROB), Ro Stein and Ted Brandt (CAPTAIN MARVEL: RAVEN THE PIRATE PRINCESS), Triona Farrell (RUNAWAYS, MECH CADET YU) and Cardinal Rae (BINGO LOVE, ROSE).
Review
This was another one that I just didn't like.  This one was actually worse.  I had such high hopes for it and it fell flat.  I ended up skimming the last issue in this volume just to get it done and over with.  The main character, Charlie, is self-obsessed and selfish – to the point of annoyance. In fact, there were many parts where I completely agreed with the masses and thought she should have a hit on her and I was cheering them on!  This graphic novel is set in a futuristic world where you can put a hit on anyone though essentially the future Kickstarter.  Really, it's more likely a near-future setting, but still.  I had hoped that this one would be interesting enough premise that I could use it as an example of social media being used in science fiction – but nope, too boring for me.  The best thing about this graphic novel was the art style – I really enjoyed it.  Lots of colour and slightly cutesy.  But not even a great art style could have saved this one for me.
Goodreads | Amazon | Indigo | Book Depository
Sex Criminals, Vol. 1: One Weird Trick
Author:Matt Fraction
Publication Date: April 29, 2014
Pages: 128
Genre: Science Fiction, Fantasy, Adult
Triggers: Sex, violence, alcoholism, death, grief
Rating: 4/5
Synopsis: Suzie's just a regular gal with an irregular gift: when she has sex, she stops time. One day she meets Jon and it turns out he has the same ability. And sooner or later they get around to using their gifts to do what we'd ALL do: rob a couple banks. A bawdy and brazen sex comedy for comics begins here!
Collecting: Sex Criminals 1-5
Review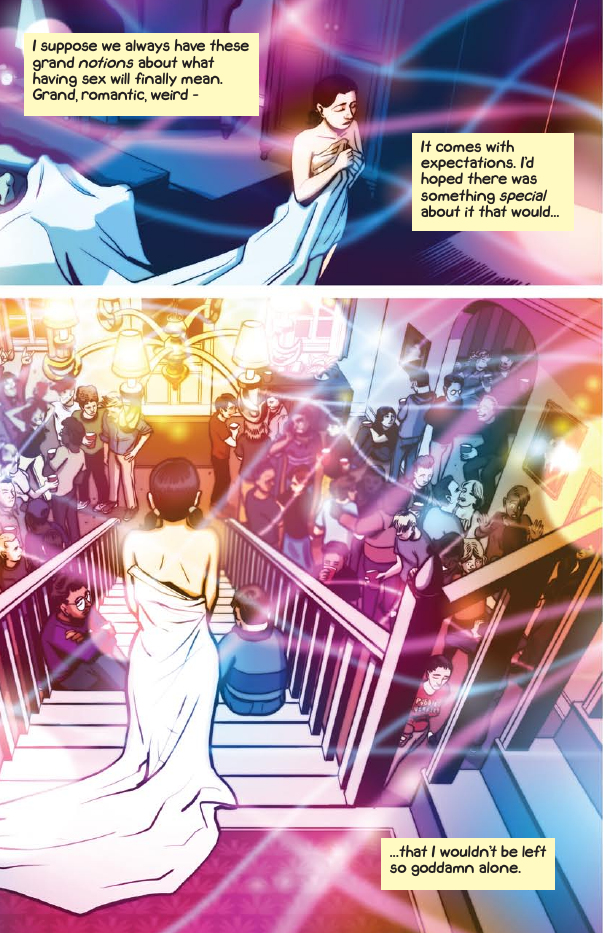 This one was the best by far! It was interesting and creative.  The idea that someone can stop time with his/her orgasm is just too intriguing that I couldn't not pick it up.  We are introduced to this premise through Suzie and we learn as she does.  It has a sense of humour by having Suzie telling us from the future while we watch the scenario (she's usually off in the corner of the panel telling us what's happening/what she's thinking and usually in the same outfit her younger self is in).  The art style is amazing! So colourful and every time time stops we get this rainbow/bubble filter overtop of everything.  I had the most fun with this one and can't wait to pick up volume 2.
Goodreads | Amazon | Indigo | Book Depository
Let me know what you think.  Have you read any of these? Will you be picking any of them up?  What do you think I should pick up next? Do you have any good suggestions for science fiction (no superhero one please)?
~Heather