Top Ten Tuesday was created by The Broke and the Bookish in June of 2010 and was moved to That Artsy Reader Girl in January of 2018. It was born of a love of lists, a love of books, and a desire to bring bookish friends together.
This week's Top Ten is Books on my Summer 2019 TBR… Let's get to it – these will be in no particular order.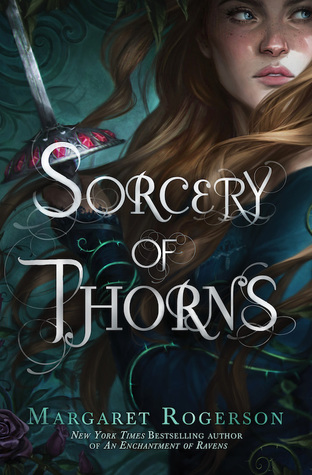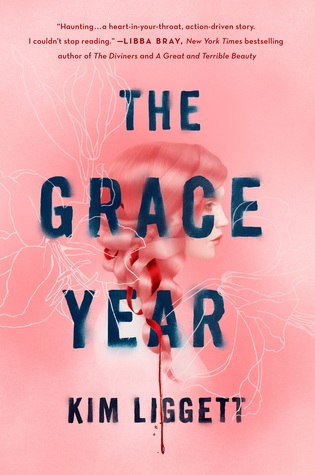 When Summer Ends by Jessica Pennington
This one will definitely be happening in July – it is way overdue since I got the eARC!
Synopsis: Aiden Emerson is an all-star pitcher and the all-around golden boy of Riverton. Or at least he was, before he quit the team the last day of junior year without any explanation. How could he tell people he's losing his vision at seventeen?
Straight-laced Olivia thought she had life all figured out. But when her dream internship falls apart, her estranged mother comes back into her life, and her long-time boyfriend ghosts her right before summer break, she's starting to think fate has a weird sense of humor.
Each struggling to find a new direction, Aiden and Olivia decide to live summer by chance. Every fleeting adventure and stolen kiss is as fragile as a coin flip in this heartfelt journey to love and self-discovery from the author of Love Songs & Other Lies.
Sorcery of Thorns by Margaret Rogerson
This one I got in a Subscription Box and I want to start reading those as soon as I can.
Synopsis: All sorcerers are evil. Elisabeth has known that as long as she has known anything. Raised as a foundling in one of Austermeer's Great Libraries, Elisabeth has grown up among the tools of sorcery—magical grimoires that whisper on shelves and rattle beneath iron chains. If provoked, they transform into grotesque monsters of ink and leather. She hopes to become a warden, charged with protecting the kingdom from their power.
Then an act of sabotage releases the library's most dangerous grimoire. Elisabeth's desperate intervention implicates her in the crime, and she is torn from her home to face justice in the capital. With no one to turn to but her sworn enemy, the sorcerer Nathaniel Thorn, and his mysterious demonic servant, she finds herself entangled in a centuries-old conspiracy. Not only could the Great Libraries go up in flames, but the world along with them.
As her alliance with Nathaniel grows stronger, Elisabeth starts to question everything she's been taught—about sorcerers, about the libraries she loves, even about herself. For Elisabeth has a power she has never guessed, and a future she could never have imagined.
The Exact Opposite of Okay by Laura Steven 
This one has been on my radar for a few months now and I've heard such great things – plus I have this gorgeous UK cover!
Synopsis: Izzy O'Neill is an aspiring comic, an impoverished orphan, and a Slut Extraordinaire. Or at least, that's what the malicious website flying round the school says. Izzy can try all she wants to laugh it off – after all, her sex life, her terms – but when pictures emerge of her doing the dirty with a politician's son, her life suddenly becomes the centre of a national scandal. Izzy's never been ashamed of herself before, and she's not going to start now. But keeping her head up will take everything she has… 
A friend of mine pointed this one out to me and I couldn't resist asking for the eARC.  This comes out August 27th so I would love to read it prior to its release.
Synopsis: You're riding in your self-driving car when suddenly the doors lock, the route changes and you have lost all control. Then, a mysterious voice tells you, "You are going to die."
Just as self-driving cars become the trusted, safer norm, eight people find themselves in this terrifying situation, including a faded TV star, a pregnant young woman, an abused wife fleeing her husband, an illegal immigrant, a husband and wife, and a suicidal man.
From cameras hidden in their cars, their panic is broadcast to millions of people around the world. But the public will show their true colors when they are asked, "Which of these people should we save?…And who should we kill first?"
The same friend who suggested The Passengers told me about The Grace Year and wow does it ever sound good.  I managed to get the eARC for this one too and I want to read it before its release date as well (September 27th).
Synopsis:  No one speaks of the grace year. It's forbidden.
Girls are told they have the power to lure grown men from their beds, drive women mad with jealousy. They believe their very skin emits a powerful aphrodisiac, the potent essence of youth, of a girl on the edge of womanhood. That's why they're banished for their sixteenth year, to release their magic into the wild so they can return purified and ready for marriage. But not all of them will make it home alive.
Sixteen-year-old Tierney James dreams of a better life—a society that doesn't pit friend against friend or woman against woman, but as her own grace year draws near, she quickly realizes that it's not just the brutal elements they must fear. It's not even the poachers in the woods, men who are waiting for their chance to grab one of the girls in order to make their fortune on the black market. Their greatest threat may very well be each other.
With sharp prose and gritty realism, The Grace Year examines the complex and sometimes twisted relationships between girls, the women they eventually become, and the difficult decisions they make in-between.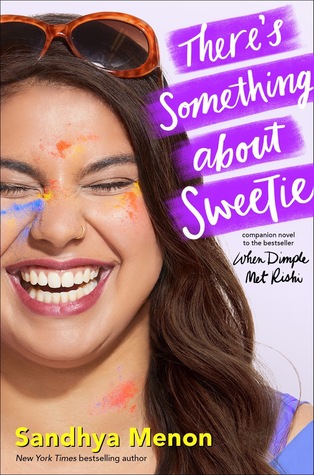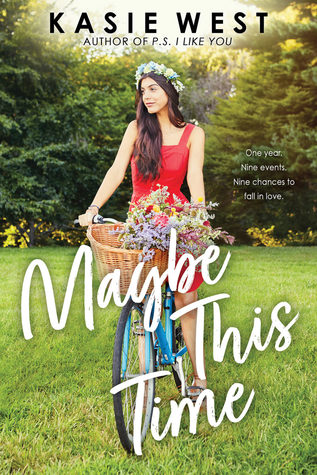 There's Something About Sweetie (Dimple and Rishi #2) by Sandhya Menon
I absolutely loved When Dimple Met Rishi and I want to get my hands on this one (just waiting for my library hold to come in).  This to me screams summer, although I am not 100% sure this takes place then.
Synopsis:  Ashish Patel didn't know love could be so…sucky. After he's dumped by his ex-girlfriend, his mojo goes AWOL. Even worse, his parents are annoyingly, smugly confident they could find him a better match. So, in a moment of weakness, Ash challenges them to set him up.
The Patels insist that Ashish date an Indian-American girl—under contract. Per subclause 1(a), he'll be taking his date on "fun" excursions like visiting the Hindu temple and his eccentric Gita Auntie. Kill him now. How is this ever going to work?
Sweetie Nair is many things: a formidable track athlete who can outrun most people in California, a loyal friend, a shower-singing champion. Oh, and she's also fat. To Sweetie's traditional parents, this last detail is the kiss of death.
Sweetie loves her parents, but she's so tired of being told she's lacking because she's fat. She decides it's time to kick off the Sassy Sweetie Project, where she'll show the world (and herself) what she's really made of.
Ashish and Sweetie both have something to prove. But with each date they realize there's an unexpected magic growing between them. Can they find their true selves without losing each other?
I have a copy of this from the library and didn't get a chance to read it before it was due (another library book that has a huge holds list).  If I'm luck, I will get to this (I would prefer to read it physically instead of using an ebook if at all possible).
Synopsis:  Khai Diep has no feelings. Well, he feels irritation when people move his things or contentment when ledgers balance down to the penny, but not big, important emotions—like grief. And love. He thinks he's defective. His family knows better—that his autism means he just processes emotions differently. When he steadfastly avoids relationships, his mother takes matters into her own hands and returns to Vietnam to find him the perfect bride.
As a mixed-race girl living in the slums of Ho Chi Minh City, Esme Tran has always felt out of place. When the opportunity arises to come to America and meet a potential husband, she can't turn it down, thinking this could be the break her family needs. Seducing Khai, however, doesn't go as planned. Esme's lessons in love seem to be working…but only on herself. She's hopelessly smitten with a man who's convinced he can never return her affection.
With Esme's time in the United States dwindling, Khai is forced to understand he's been wrong all along. And there's more than one way to love.
Fix Her Up (Hot and Hammered #1) by Tessa Bailey
This wasn't high on my radar when I first heard of it – thought it would be a cute RomCom of Fixer Upper with Chip and Joanna Gaine… yup very, very wrong.  After hearing a couple of reviews, dang this looks like it's going to be a steamy read that you can read in public *shock*.
Synopsis:  A brand new romantic comedy from New York Times bestseller Tessa Bailey!
Georgette Castle's family runs the best home renovation business in town, but she picked balloons instead of blueprints and they haven't taken her seriously since. Frankly, she's over it. Georgie loves planning children's birthday parties and making people laugh, just not at her own expense. She's determined to fix herself up into a Woman of the World… whatever that means.
Phase one: new framework for her business (a website from this decade, perhaps?)
Phase two: a gut-reno on her wardrobe (fyi, leggings are pants.)
Phase three: updates to her exterior (do people still wax?)
Phase four: put herself on the market (and stop crushing on Travis Ford!)
Living her best life means facing the truth: Georgie hasn't been on a date since, well, ever. Nobody's asking the town clown out for a night of hot sex, that's for sure. Maybe if people think she's having a steamy love affair, they'll acknowledge she's not just the "little sister" who paints faces for a living. And who better to help demolish that image than the resident sports star and tabloid favorite?
Travis Ford was major league baseball's hottest rookie when an injury ended his career. Now he's flipping houses to keep busy and trying to forget his glory days. But he can't even cross the street without someone recapping his greatest hits. Or making a joke about his… bat. And then there's Georgie, his best friend's sister, who is not a kid anymore. When she proposes a wild scheme—that they pretend to date, to shock her family and help him land a new job—he agrees. What's the harm? It's not like it's real. But the girl Travis used to tease is now a funny, full-of-life woman and there's nothing fake about how much he wants her…
I love Kasie West books, especially in the summer.  This is another one I have a library hold on.  It comes out July 9th and the library can be a little slow at processing, so if I'm lucky I'll be able to read it in August – otherwise, I'll likely just switch it out for another Kasie West book lol.
Synopsis:  One year. Nine events. Nine chances to . . . fall in love?
Weddings. Funerals. Barbecues. New Year's Eve parties. Name the occasion, and Sophie Evans will be there. Well, she has to be there. Sophie works for the local florist, so she can be found at every big event in her small hometown, arranging bouquets and managing family dramas.
Enter Andrew Hart. The son of the fancy new chef in town, Andrew is suddenly required to attend all the same events as Sophie. Entitled, arrogant, preppy Andrew. Sophie just wants to get her job done and finish up her sketches so she can apply to design school. But every time she turns around, there is Andrew, getting in her way and making her life more complicated. Until one day she wonders if maybe complicated isn't so bad after all . . .
Told over the course of one year and following Sophie from event to event, this delightful novel from master of romantic comedy Kasie West shows how love can blossom in unexpected places.
9 Days and 9 Nights (99 Days #2) by Katie Cotugno
I want to read the light, fluffy, happy books this summer (on top of the sexy times and the thrillers – but mostly fluffy).  I got this at the end of last year after I read 99 Days and I really want to finish the series off – it's short and sweet to boot.
Synopsis:  Molly Barlow isn't that girl anymore. A business major at her college in Boston, she's reinvented herself after everything that went down a year ago . . . after all the people she hurt and the family she tore apart.
Slowly, life is getting back to normal. Molly has just said "I love you" to her new boyfriend, Ian, and they are off on a romantic European vacation together, starting with scenic London. But there on a Tube platform, the past catches up to her in the form of Gabe, her ex, traveling on his own parallel vacation with new girlfriend Sadie.
After comparing itineraries, Ian ends up extending an invite for Gabe and Sadie to join them on the next leg of their trip, to Ireland. Sadie, who's dying to go there, jumps at the prospect. And Molly and Gabe can't bring themselves to tell the truth about who they once were to each other to their new significant others.
Now Molly has to spend nine days and nine nights with the boy she once loved, the boy whose heart she shredded, without Ian knowing. Will she make it through as new, improved Molly, or will everything that happened between her and Gabe come rushing back?
So there you have it.  Ten books that I want to read over the rest of the summer.  What do you think? Any of these on your list?  Anything you think I should add – or remove for that matter?  Let me know in the comments.
~Heather