All three of these Graphic Novels were received through NetGalley in exchange for an honest review.
I wanted to feature each one of these graphic novels; however, I didn't feel there was enough to talk about for each one to have its own full-length review.
Book Love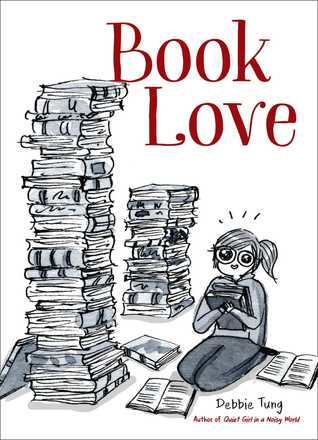 Author: Debbie Tung
Publication Date: January 1st 2019
Pages: 137
Genre: Contemporary, Non-Fiction
Rating: 4/5
Synopsis: Bookworms rejoice! These charming comics capture exactly what it feels like to be head-over-heels for hardcovers. And paperbacks! And ebooks! And bookstores! And libraries!
Book Love is a gift book of comics tailor-made for tea-sipping, spine-sniffing, book-hoarding bibliophiles. Debbie Tung's comics are humorous and instantly recognizable—making readers laugh while precisely conveying the thoughts and habits of book nerds. Book Love is the ideal gift to let a book lover know they're understood and appreciated. 
Review
This book made me smile through the entire thing. It was over in a few short hours, but completely relatable to any book lover.  It perfectly depicts every thought that would cross a Book Lover's mind and what we experience.
The art style was cute and adorable. The amount of emotions depicted in the individual comics was great.
If you want a quick read that lifts your spirit, this is the book for you.
---
Watersnakes
Author: Tony Sandoval, Lucas Marangon (translator)
Publication Date: November 20th 2018 
Pages: 144
Genre: YA, Fantasy, Horror.
Rating: 4/5
Synopsis:  Mila is a solitary teenager ready to put another boring summer vacation behind her until she meets Agnes, an adventurous girl who turns out to be a ghost. And not just a regular ghost, but one carrying the essence of an ancient fallen king and a mouth full of teeth that used to be his guardian warriors.
Three-time Eisner Award-nominated writer/artist Tony Sandoval presents a wondrous world of secret places and dreamlike magic hidden in the everyday corners of our sleeping imagination.
Review
This story was out there. I definitely did not know where it was going, but in the end, I was rather satisfied with the ending. The art style is rough and beautiful. It stuck with reds, blacks (greys) and bridges with its colouring for the most part which I felt fit with its darker tone.
There will be many points where you ask "where are we going here?", but I think that adds to the story itself. It brings mystery and an un-knowingness to the overall story, which you feel the main character feels. She isn't sure if it's real, a joke, or just part of a dream and you're left wondering the same.
I really enjoyed this and believe anyone looking for a darker, dreamlike story would be happy with this one.
---
Kim Reaper Vol. 1: Grim Beginnings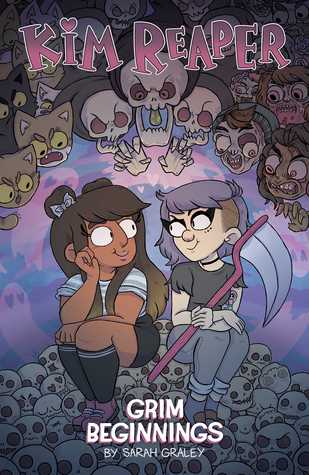 Author: Sarah Graley
Publication Date: March 13th 2018
Pages: 112
Genre: YA, Fantasy, LGBTQ+
Rating: 3/5
Synopsis: Part-Time Grim Reaper. Full-Time Cutie!
Like most university students, Kim works a part-time job to make ends meet. Unlike most university students, Kim's job is pretty cool: she's a grim reaper, tasked with guiding souls into the afterlife.
Like most university students, Becka has a super intense crush. Unlike most university students, Becka's crush is on a beautiful gothic angel that frequents the underworld. Of course, she doesn't know that.
Unaware of the ghoulish drama she's about to step into, Becka finally gathers up the courage to ask Kim on a date! But when she falls into a ghostly portal and interrupts Kim at her job, she sets off a chain of events that will pit the two of them against angry cat-dads, vengeful zombies, and perhaps even the underworld itself. But if they work together, they just might make it… and maybe even get a smooch in the bargain.
Review
This was a cute read. The humour was perfect for the story. The actions of the main character don't make total sense, but I'm not 100% sure it was supposed to. I loved the art style nice and bright, yet it was still familiar.
I'm curious where the next volume will go and will decide from there if I want to continue the series.
---
I wanted to try out these mini-reviews for Graphic Novels since that is usually the formats that I have a harder time doing lengthy reviews.  What do you guys think? Does this work? Have you read any of these – what did you think?
~Happy Reading