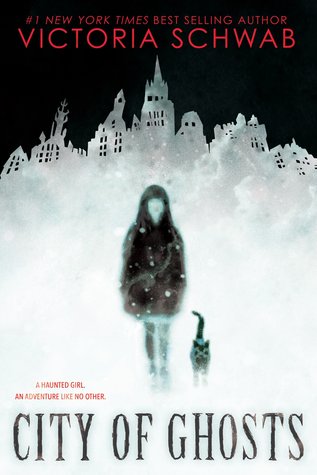 Title: City of Ghosts
Author: Victoria Schwab
Series: Cassidy Blake (Book 1)
Release Date: August 28th, 2018 by Scholastic
Page Length: 272
Genre: Fantasy, Paranormal
Age Range: Middle Grade
Rating: 5/5
Goodreads Synopsis:  Cassidy Blake's parents are The Inspectres, a (somewhat inept) ghost-hunting team. But Cass herself can REALLY see ghosts. In fact, her best friend, Jacob, just happens to be one.
When The Inspectres head to ultra-haunted Edinburgh, Scotland, for their new TV show, Cass—and Jacob—come along. In Scotland, Cass is surrounded by ghosts, not all of them friendly. Then she meets Lara, a girl who can also see the dead. But Lara tells Cassidy that as an In-betweener, their job is to send ghosts permanently beyond the Veil. Cass isn't sure about her new mission, but she does know the sinister Red Raven haunting the city doesn't belong in her world. Cassidy's powers will draw her into an epic fight that stretches through the worlds of the living and the dead, in order to save herself. 
Goodreads – Amazon – Chapters|Indigo – Book Depository
---
My Thoughts
This short ghost story was a treat to read.  Cassidy is a unique, interesting character who just happens to be able to see ghosts.  No, she does not "see dead people" in a sense that they are visible all the time, she specifically needs to travel behind the "veil" to see the ghosts and their world.  Well, all except for her best friend, Jacob, who just happens to be a ghost.  We have no idea of his history, just that he saved Cassidy's life when she had a near-death experience when she fell into the frozen river.
Victoria Schwab manages to write so much in such little time.  She has us involved in the world, and it becomes believable to her readers.  Cassidy, Jacob, and the veil became real while I read Cassidy's story.  I was brought back to Edinburgh, Scotland again, but experiencing the more haunted side of things.  The atmosphere that Schwab wrote with such detail had me experiencing the different scenes and visualising the ghosts in that setting as well.
I found Cassidy's parents, although unrealistic in behaviour, were too much fun.  Cassidy's mom was so funny and wanted so badly to believe in a connection to another world, but at times we saw just how far off that connection really was.  Cassidy's dad was so practical, basically, the complete opposite to Cassidy's mom, that you spent time wondering just how accurate that rule of "opposites attract" really was.  But the idea that they would allow Cassidy to have as much freedom as she had, or at least how much the reader felt she had, seems entirely unrealistic – or maybe that's just me.
I found myself laughing and tearing up during this story.  There were laughing moments and then there were moments where your heart just breaks.  There were tense moments, where you literally feel in peril because you're not sure exactly what will happen to next.
I found this to be a perfect fall read.  If you aren't into scary books during this time of year, then City of Ghosts would be perfect for you.  Yes, there are tense moments, and some even on the scarier side, but nothing too intense that I believe you wouldn't enjoy it.   Think Hocus Pocus (movie) scary – at least to my scale that's where I would place it.
Favourite Quotes
"Embrace your strange, dear daughter. Where's the fun in being normal?"
"Sometimes help is a place and sometimes it's a person, and sometimes it's a bit of both."
"Stories have power," she says. "So long as you believe them."