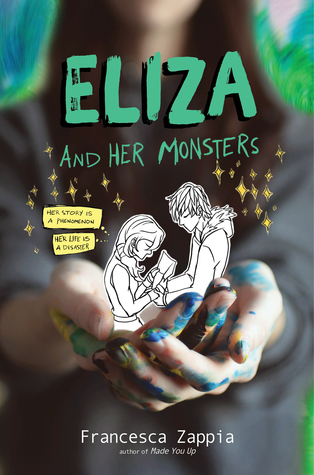 Title: Eliza and Her Monsters
Author: Francesca Zappia
Release Date: May 30th 2017, Greenwillow Books
Page Length: 385 (Hardcover)
Genre: Contemporary
Age Range: YA
Rating: 5/5
Synopsis: Her story is a phenomenon. Her life is a disaster.
In the real world, Eliza Mirk is shy, weird, and friendless. Online, she's LadyConstellation, the anonymous creator of the wildly popular webcomic Monstrous Sea. Eliza can't imagine enjoying the real world as much as she loves the online one, and she has no desire to try.
Then Wallace Warland, Monstrous Sea's biggest fanfiction writer, transfers to her school. Wallace thinks Eliza is just another fan, and as he draws her out of her shell, she begins to wonder if a life offline might be worthwhile.
But when Eliza's secret is accidentally shared with the world, everything she's built—her story, her relationship with Wallace, and even her sanity—begins to fall apart.
Goodreads           Amazon         Book Depository
---
Content warning: suicide, mental illness
I've had this book on my TBR Pile for a while – not as long as some, but with the amount of focus it was getting when it first came out I probably should have gotten to it sooner.
I originally got this book in the Owl Crate box back in May 2017.  I had never heard of it, but the idea that the main character draws an online graphic novel drew me in.  I'm a huge graphic novel fan – although I am trying to branch out more than just my typical superhero comics.  That being said, I wish there was more of the graphic novel's pages scattered throughout the book.  Yes there are a few pages, here and there, but based on the first few chapters, I had come to expect some excerpts from it at the end of each chapter.  This wasn't always the case, but what was there was beautiful.  I'm not sure if it was just me or not, but I wasn't always sure if the written portion was from Wallace or if that was part of the comic – although that's me getting a bit ahead of myself I guess.
Besides this, I found the story and the characters of Eliza and Her Monsters were well developed and heart wrenching.  I found I most identified with Eliza.  She felt like an outsider and struggled with social situations.  She clearly suffered from social anxiety, depression, and self-doubt.  At the same time, she wasn't aware of how lucky she was with friends and family.  It becomes apparent that some people in her life know her better than she does them.  She believed that everyone didn't understand her, but she later finds out that she has more in common with friends and family – that she has more respect than she thought.
There were many emotional points in the story that captivated me.  I felt Eliza's highs and lows.  I teared up a few times during this read – which is rare for me.  It just proves how well the writing was.  How humanizing the characters were.
Overall, this was a well written story that I was sadden by how quickly I was able to get through it.  I usually enjoy quick reads, but this story was so great that it was one that I didn't want to end.  I wanted to see more about Eliza and her story.  What happened after the story ended, what happened to the comic and her recovery.  I highly recommend this book!  It is one that will give hangovers, but well worth it!