I am so sorry for abandoning this blog for so long.  I had no intention in doing so, but I got so busy and next thing I knew it was May.  April was a really busy month for my work – being exam week and all.  But I still managed to read 6 books.  That being said, I'm hoping to read a fair amount this month and I have plans for this month as far as posts go.
So what are my plans for the month?
TBR Piles
Challenge & Read-a-thons
TBR & Beyond Back to School Event Challenge
I've joined the TBR & Beyond Back to School Event.  I will post the link below for you to join as well – it's not too late.  There are mini challenges for this month long event.  All the books should be Middle Grade books; however, some points will be awarded to YA reads that fit the mini challenge.  There is a Giveaway at the end of the month based on what was read and the points awarded.  The Giveaway is open internationally.
TBR and Beyond: Back to School Event
Math: Read a Book Over 200 Pages


Princess Academy
Miri lives on a mountain where, for generations, her ancestors have quarried stone and lived a simple life. Then word comes that the king's priests have divined her small village the home of the future princess. In a year's time, the prince himself will come and choose his bride from among the girls of the village. The king's ministers set up an academy on the mountain, and every teenage girl must attend and learn how to become a princess.
Miri soon finds herself confronted with a harsh academy mistress, bitter competition among the girls, and her own conflicting desires to be chosen and win the heart of her childhood best friend. But when bandits seek out the academy to kidnap the future princess, Miri must rally the girls together and use a power unique to the mountain dwellers to save herself and her classmates.
Geography: Book with an Adventure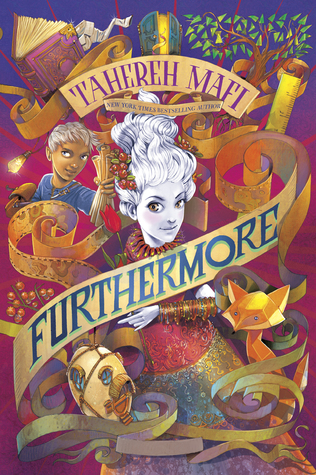 Furthermore
Alice Alexis Queensmeadow 12 rates three things most important: Mother, who wouldn't miss her; magic and color, which seem to elude her; and Father, who always loved her. Father disappeared from Ferenwood with only a ruler, almost three years ago. But she will have to travel through the mythical, dangerous land of Furthermore, where down can be up, paper is alive, and left can be both right and very, very wrong. Her only companion is Oliver whose own magic is based in lies and deceit. Alice must first find herself—and hold fast to the magic of love in the face of loss.
Art: Read a Book with a Beautiful Cover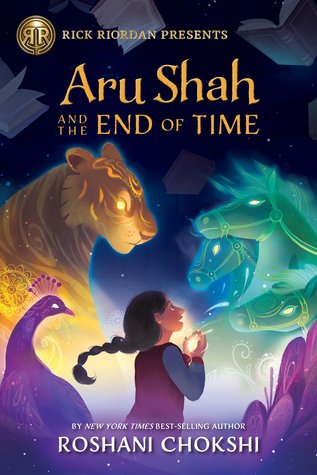 Aru Shah and the End of Time
Twelve-year-old Aru Shah has a tendency to stretch the truth in order to fit in at school. While her classmates are jetting off to family vacations in exotic locales, she'll be spending her autumn break at home, in the Museum of Ancient Indian Art and Culture, waiting for her mom to return from her latest archeological trip. Is it any wonder that Aru makes up stories about being royalty, traveling to Paris, and having a chauffeur?
One day, three schoolmates show up at Aru's doorstep to catch her in a lie. They don't believe her claim that the museum's Lamp of Bharata is cursed, and they dare Aru to prove it. Just a quick light, Aru thinks. Then she can get herself out of this mess and never ever fib again.
But lighting the lamp has dire consequences. She unwittingly frees the Sleeper, an ancient demon whose duty it is to awaken the God of Destruction. Her classmates and beloved mother are frozen in time, and it's up to Aru to save them.
The only way to stop the demon is to find the reincarnations of the five legendary Pandava brothers, protagonists of the Hindu epic poem, the Mahabharata, and journey through the Kingdom of Death. But how is one girl in Spider-Man pajamas supposed to do all that?
This is also the TBR and Beyond Group Read!
Ghouls Studies: Read a Book that Has Horror Elements


The Dead Boyfriend
She's dying to go out with him…
Caitlin has never had a real boyfriend before. When she starts seeing Blade, she throws herself into the relationship with fervor. She ignores her friends, who warn her that Blade may be a phony and that she is taking the whole thing too seriously. Caitlin is smitten. She doesn't care if she loses her friends. All she wants is Blade.
When Caitlin sees Blade with another girl, she completely loses it. She snaps. Everything goes red. When she comes back to her senses, she realizes that Blade is dead—and she has killed him. But if Colin is dead, how is he staring at her across a crowded party?
Spells: Read a Book with Magic


The Magic Misfits
When street magician Carter runs away, he never expects to find friends and magic in a sleepy New England town. But like any good trick, things change instantly as greedy B.B. Bosso and his crew of crooked carnies arrive to steal anything and everything they can get their sticky fingers on.
After a fateful encounter with the local purveyor of illusion, Dante Vernon, Carter teams up with five other like-minded kids. Together, using both teamwork and magic, they'll set out to save the town of Mineral Wells from Bosso's villainous clutches. These six Magic Misfits will soon discover adventure, friendship, and their own self-worth in this delightful new series.
Care of Magical Creature: Read a Book with Magical Creatures


How to Train Your Dragon
Hiccup Horrendous Haddock III is a truly extraordinary Viking hero known throughout Vikingdom as "the Dragon Whisperer"…but it wasn't always so. Travel back to the days when the mighty warrior was just a boy, the quiet and thoughtful son of the Chief of the Hairy Hooligans. Can Hiccup capture a dragon and train it without being torn limb from limb? Join the adventure as the small boy finds a better way to train his dragon and become a hero!
Are You Reading More Than a Fifth Grader Read-a-thon
This Read-a-thon is hosted by TBR & Beyond.  It will be from May 14th-20th and will have mini sprints throughout the week.  There are no specific goals/challenges to the Read-a-thon, although it is encouraged that you read towards the Back to School Challenge anything can be read.  I'm really looking forward to this sprint – it will help me focus more on my reading and maybe I can get some reviews done as well.
So that's it.  Nothing too exciting happened in the past, but lots of fun in the future.
What's everyone's plans for May?