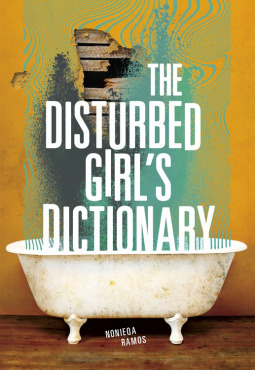 Title: The Disturbed Girl's Dictionary
Author: NoNieqa Ramos
Release Date: February 1, 2018, Lerner Publishing Group
Genre: YA Contemporary
Synopsis: Macy's school officially classifies her as "disturbed," but Macy isn't interested in how others define her. She's got more pressing problems: her mom can't move off the couch, her dad's in prison, her brother's been kidnapped by Child Protective Services, and now her best friend isn't speaking to her. Writing in a dictionary format, Macy explains the world in her own terms—complete with gritty characters and outrageous endeavors. With an honesty that's both hilarious and fearsome, slowly Macy reveals why she acts out, why she can't tell her incarcerated father that her mom's cheating on him, and why her best friend needs protection . . . the kind of protection that involves Macy's machete.
Goodreads          Amazon          Book Depository
---
I was lucky enough to receive this ARC on Netgalley for review.  Based on the description alone I was hooked.  I'm always drawn by books that deal with difficult situations, especially if there's a hint of mental issues – wow that sounds weird… well I always find them interested.  If I'm being honest though, I couldn't finish this book.  As much as I wanted to enjoy it, I just couldn't.  I decided to DNF (did not finish) the book at 30% completion.  Let me explain.
Macy always felt angry and it's never truly explained why.  I couldn't relate to her at all.  Everything felt unimportant to her, either by her saying it was stupid or brushing it off.  The only time you ever feel like she cares about anything is the slight sliver of moments where she is trying to get her friend, Alma, back.  The way Macy talked was driving me insane!  Like I said she was always angry and just the way she talked was causing me to constantly correct her – there is no such word as "maff".  I get that was a writing decision made by Ramos, but it was one that was causing me to dread reading the book.   There was very little other character introduction by this point.  We were introduced briefly to George and Alma, but I only got a small idea of who they are.  Alma was by far my favourite and more relatable character; however, I was still confused some of her decisions.  We were introduced to Macy's little brother at this point, who acts like a dog?? But I'm still not 100% sure why he was taken away by Children Protective Services.
However, on a positive note, Ramos' writing style is excellent.  I was pulled into the story at points and it was because of her story writing.  Honestly, when Macy would go into flashbacks, I found it the most interesting.  It was less about anger and more about telling the experiences that she had.  I wanted to know more about her life – which I'm sure would have happened if I could just get past Macy as a character.
Although I did decide to DNF this book, I do plan on giving it a try again later – maybe in the summer.  I'm really hoping I just wasn't in the mood for this kind of character/story.  This is solely based on the fact that in behind the obligation I was feeling about completing the book, I also felt intrigue, which I'm hoping was only drown out because I can be such a mood reader.  If I do pick it up and change my opinion of it, I will update this review.
At this point, I can not give it a rating since I decided not to finish it.